YOUR PATH TO OPTIMAL HEALTH AND WELLNESS STARTS HERE!
Red Lotus Wellness Center (RLWC) is a premier integrative medicine clinic providing a world class environment that supports the recovery and maintenance of optimal health and wellness to the people of Carlsbad, and North San Diego County,  
Our cutting edge, innovative medical solutions integrated with Traditional Chinese Medicine provide our patients with unparalleled, customized care.
We are focused on Treating the Root Cause, Not just the symptoms, creating Optimal Health, Wellness and Vitality.  We harness the power of an Ancient medical system, to help to heal modern diseases. 
At RLWC we provide individualized custom treatments for fertility challenges, chronic pain, and the difficult, seemingly last resort cases, and autoimmune disorders, so that you can get BACK to LIVING Life to the FULLEST.
WHAT IS ACUPUNCTURE?
Acupuncture is a safe therapeutic treatment approach, helping the body to return to its natural state of balance and harmony.
The over 3000 year old practice of acupuncture uses hair-thin, single use, sterile needles placed into specific acupuncture points on the body.  Oriental medical theory explains disharmonies as an imbalance of opposing forces called yin and yang. This imbalance disrupts the movement of the body's vital energy (qi) along the meridian pathways, which are channels through which the body's energy is thought to flow. Acupuncture restores the smooth flow of qi, by inserting and manipulating acupuncture needles at specific points.  As required by law, we use pre-sterilized, disposable, single-use needles to ensure your complete safety.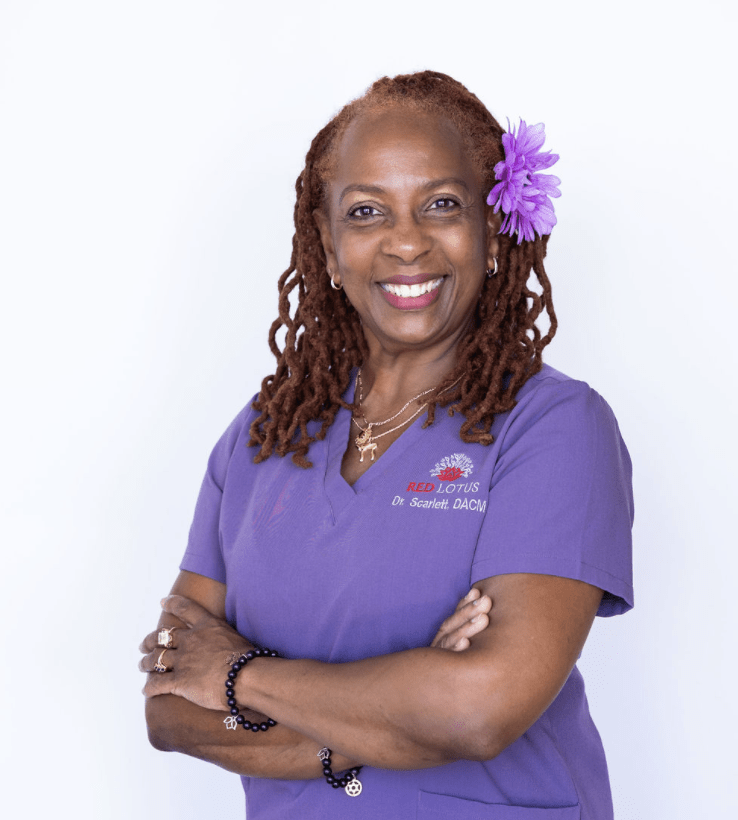 Meet Dr. Y. K. Scarlett
Dr. Scarlett is an Integrative Women's Health and autoimmune disease specialist with over 12 years of experience.
She's a licensed Primary Care Provider in CA, Acupuncturist and Herbalist certified by the California Acupuncture Board, as well as by the National Certification Commission for Acupuncture, and Oriental Medicine (NCCAOM).
Dr. Scarlett has had the privilege of helping thousands of women in the field of Traditional Chinese Medicine including TCM Gynecology and Reproductive Health.   As a woman, a mother, and a physician, it became very clear to her that women were not truly cared for with conventional medicine alone and this propelled her to undertake advanced studies combining integrative medicine and functional medicine.
Her own experiences with uterine fibroids, fibrocystic breast disease, ovarian cysts and autoimmune disorders helped her to realize the power of lifestyle changes in creating better health.  During her teenage years and most of her young adult life she suffered with painful menses, and had to miss days of school, or spend an inordinate amount of time in the nurse's office being treated for nausea, headache and cramps.  She dreaded and hated that time of the month.    She saw several doctors and was only offered birth control pills, or other medication to reduce the flow and pain.   None of her doctors asked questions about her lifestyle.   With increasing health challenges, and desperate for a better quality of life, she realized that the high carbs diet, fried foods, and sugary treats were affecting her symptoms.   Many years later she stumbled on Acupuncture and Chinese medicine which got rid of her chronic daily debilitating migraines of over 13 years.  She was being prescribed stronger prescriptions which made her feel groggy, and as if disconnected from her body.  Despite being terrified of needles, her desperation got the better of her, and she's so glad she found Acupuncture, and Chinese medicine.
After experiencing the power of lifestyle medicine in her own healing, Dr. Scarlett had an "aha" moment and decided to embark on a new career path, and enrolled in
Chinese Medicine School.  She studied both Western, and Eastern nutrition – using food as medicine, mind body techniques, how toxic exposures, and environmental toxins affect body functions, and epigenetics.    Dr. Scarlett also completed advanced studies in managing thyroid and brain health, in order to become better versed in these areas for her health benefit, and patient care.    Through her extensive studies she strengthened her belief in the power of the body to heal itself.
Specializing in Women's health, especially an Integrative approach to fertility, PCOS, Endometriosis
and the management of thyroid and other autoimmune disorders was born out of Dr. Scarlett's passion for caring for women, helping to educate and provide tools to guide them on the path to optimal health and wellness, through a holistic and integrative approach.
Dr. Scarlett and her team look forward to meeting you and helping you to uncover the root cause of your health concerns,  creating a personalized plan to getting you back on the path of optimal health and vitality.    Make the shift today to better health.
When Dr. Scarlett isn't practicing medicine, you can find her on her beach walk, out dancing, gardening, creating some delicious, healthy ethnic dishes, enjoying really good wine with friends, and every now and then enjoying a delicious gluten free, vegan lemon cupcake.
To schedule a visit with Dr. Scarlett, contact us here
Credentials:
Doctor of Acupuncture and Chinese Medicine (DACM), Pacific College of Oriental Medicine, emphasis on Women's Health and Autoimmune Disorders

Diplomate of Oriental Medicine (Dipl.O.M.), NCCAOM

Board Licensed Acupuncturist, and Chinese Medicine Herbalist (L.Ac), California State Board of Acupuncture

Clinical Supervisor, Pacific College of Health and Science

Advanced Training – Pediatrics, Thyroid and Brain function, Fertility, Craniosacral Therapy

Master of Traditional Oriental Medicine (MSTOM), Pacific College of Oriental Medicine

Bachelor of Science in Electronic Engineering, DeVry University, New Brunswick, NJ
from our gallery
A gallery of the transformative healing from Red Lotus Wellness Center that happens on a daily basis.